WikiWiki Express Movers & Storage Offers Comprehensive Moving Services to Get You Going
Schedule your courier service
in advance or on-demand. Same day. Documents, Boxes. groceries, medicine, alcohol and anything delivered from A to Z. Get your urgent deliveries handled! You can have our in house courier drivers, who are available to you on-demand,
deliver your packages locally
they can even be scheduled in advance. They can be at the pickup location at a time of your choosing, including evenings and weekends. Your items will be delivered the same-day by
local shipping
and courier experts that work every day with the same company and commitment for you, our services are all in-house so you know who you are working with. With our services you get the peace of mind that we screen and check our employees to assure you will get a positive experience every time. Offering a safe, secure, convenient service with local drivers. Schedule 24/7 and have it delivered between the hours of 6 am to 8 pm, 7 days a week.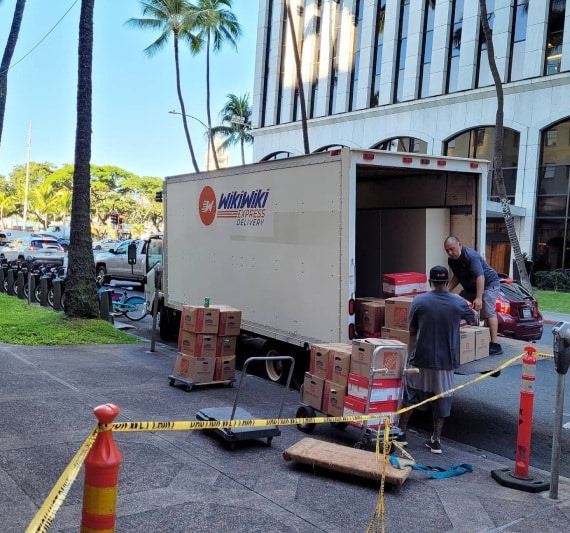 Wikiwiki Express Delivery has made Oahu shipping as easy and painless as 1,2,3 first fill out the form and the details of your items like weight, dimensions, quantity, and value.
Second, tell us when and where you need it picked up and shipped to!
Third, wait on shipment and we will give you updates on the estimated time of arrival and tracking of your items. Making Connections Happen For You!
Get pickup and delivery service
from any retail store on demand. Do you demand
fast delivery from retailers
whether buying online or buying in the brick-and-mortar store? We can go to any retailer to
pick up and deliver
your items so you never leave home. Your team never has to leave the job site.
Pick up from any retailer
. Our in-house professionals will help you load, deliver, and unload your retail purchases. For Consumers and Businesses. 4-hour Standard for the delivery of oversized items, such as large boxes, furniture, or appliances, from storage, businesses, or residences.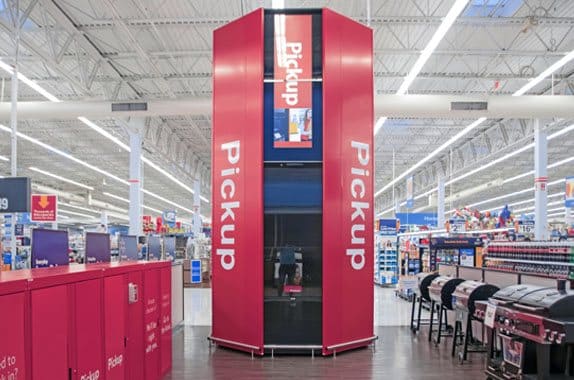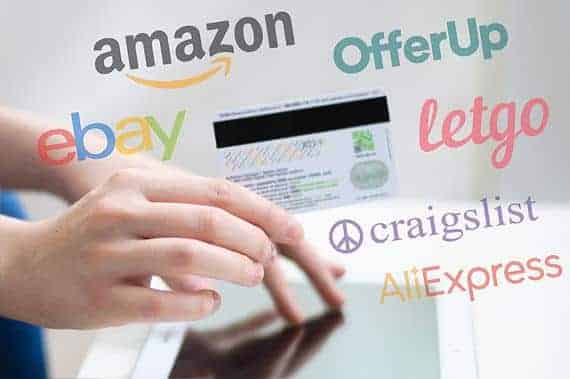 Buying and selling online has never been easier. Wikiwiki Express Delivery online delivery means you never need to meet the seller, nor the buyer. Get online classified pickup & delivery of your Craigslist, Facebook Marketplace, Amazon, Offerup & Letgo Purchases and Sales. Let us Wikiwiki Express Deliver your item to your buyer. Or even deliver it from the seller to you. Shop used, buy local. Online Classified Pickup & Delivery. It's never been easier. You don't even have to leave the house or job site. On-demand 4-hours Standard. Wikiwiki Express Delivery"Making Connections Happen For You"
Do you need that extra assistance when making your move? Wikiwiki Express Delivery will help
load or unload your items
that are ready to get on the truck. Our drivers will take those items to your next location locally. Both
residences
and
businesses
can use Wikiiwki Express Delivery to help with the move. No item is too large or too small.
Fill out form on our website Request a quote now
! When you are ready to be picked up, we will schedule for pick up. Get the help you need and be able to schedule 24/7 and have the work done between the hours of 6 am and 8 am, 7 days a week.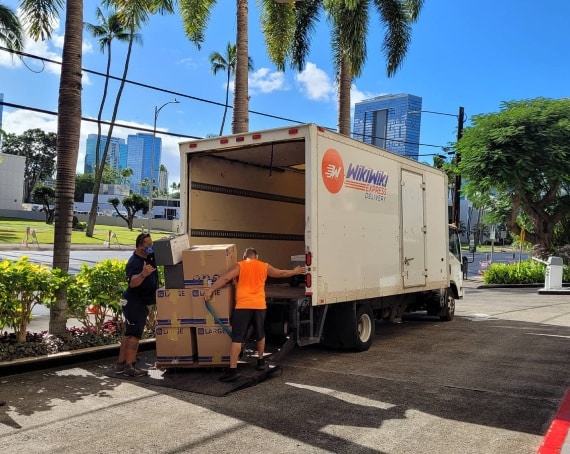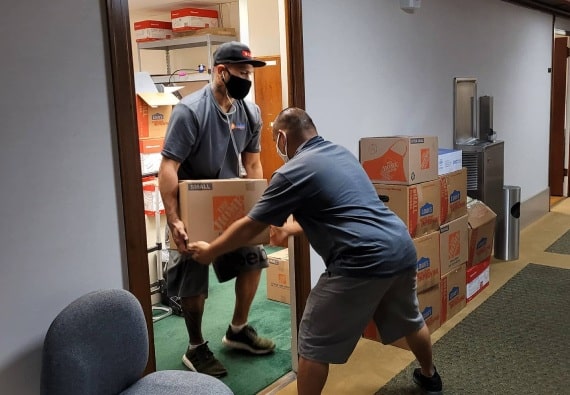 Want things from your storage unit? Or to put something there? Storage pickup & delivery. Never been easier!
Your items are waiting to go into storage. Or you want them out of storage. But you're too busy. Or maybe your vehicle is too small. Whatever the reason, you need to Wikiwiki Express it!
Delivery on-demand has never been so easy.
4-hour Standard for the delivery of oversized items, such as large boxes, furniture, or appliances, from storage, businesses, or residences.
We are Top Rated Moving Company
What Pepole Say
About Our Company
I don't live on Oahu but I visit sometimes for work, and I needed help doing some shopping and deliveries because I wasn't able to get to Oahu myself. WikiWiki Express helped me out by going shopping, boxing up the items and taking them to where the needed to be. Very helpful and fast, and called to make sure they were getting the right items instead of making assumptions.
Chris/Wiki Wiki is the BEST! Nov 5th, early Monday morning I went on Yelp to look for a courier service. I have never utilized courier services before so I have no idea how it works and what rates are. I messaged Wiki Wiki on yelp and within a few minutes, Chris messaged me to call him so I did....at 7:48am. Chris was extremely accommodating and genuinely nice. I mentioned to him that I could drop off my items to him to deliver to make things easier. The only problem was he was about to leave the office to do deliveries soon and he was in Kakaako and I was in Hi Kai. So, he told me his driving route of deliveries for the day and I mentioned my delivery was rt in downtown just down the same street from his downtown delivery. Perfect! He met up with me at 12pm and by 12:43, he texted me a picture of the place he delivered my item to and said my items had been delivered and to the person it was delivered to. Now that is service! Thank you so much Chris for your assistance in alleviating the stress in delivering something I didn't want to do. I appreciate it!
When my family needed a rush job done with less than a day's notice, I turned to Yelp to obtain quotes & availability from prospective courier services. It was a relatively small job that involved picking up boxes from a residential property and taking them to an accounting office in town before they closed. At the time, we estimated the job involved 15 boxes. Christopher S., owner of Wiki Wiki Express responded immediately and with availability to do the job. Other vendors either didn't respond, declined the job, or indicated they were booked. A quote was provided, accepted, and a pickup time the next day was scheduled. I wasn't present at the job site but understand that Wiki Wiki arrived on time and even waited graciously for the boxes to be gathered by my family. Wiki Wiki only accepted credit card payment by phone after they confirm the job was completed. They declined a check. Due to a mixup among family as to who was going to call in the credit card payment I ended up having to call in the payment myself. I'm sorry Chris for calling you so late! I appreciate Chris and Wiki Wiki Express for their professionalism, responsiveness and patience especially since the job was smaller than originally anticipated. The job turned out to only be about 5 boxes. I would not hesitate to call Chris and Wiki Wiki Express again for another job. Mahalo, Wiki Wiki Express!
THANK YOU SOO MUCH CHRIS! Chris went above and beyond and delivered malasadas for our past friday wedding all the way up to Laie! Came in perfect time. He was super professional and responsive throughout the pre-planning of our wedding.We are soo thankful! Much Love! Bernie & Valarie Valdez
I was so lucky to find Wikiwiki Express Delivery to help bring some Holiday Joy to a friend in need. I live in Europe and I wanted to do something special for my best friend who lives in Waikiki and won't be spending Christmas with her family this year. Chris picked up two goodie bags filled with wine and food from the market and delivered them to my friend's front door. He arrived EXACTLY at the agreed time! Chris also took a photo of my friend and emailed it to me so that I could see the smile on her face when she received her gift. Big MAHALOS to Chris and Wikiwiki Express for being an angel and adding to the love and memories for this holiday season. I gave 5 stars , but he deserves 10!
Chris responded to me quickly with a quote indicating that he could get my pick up and delivery done that same morning. Was willing to handle all the details with professionalism and great customer service. I am glad I contacted him. He obviously believes in providing great customer service and satisfaction.
Chris and Jerome were amazing helpful and persistent! I needed a pallet of 4-55 gallon barrels delivered to my storage unit. Both Chris and Jerome accepted this challenge and completed it with great energy and a sense of humor. I highly recommend WikiWiki for all of your delivery needs. Great guys providing a quality service
I don't live on Oahu but I visit sometimes for work, and I needed help doing some shopping and deliveries because I wasn't able to get to Oahu myself. WikiWiki Express helped me out by going shopping, boxing up the items and taking them to where the needed to be. Very helpful and fast, and called to make sure they were getting the right items instead of making assumptions.
Found WikiWiki here on yelp as I was searching for a service to pick up and package an antique chest for me in Honolulu and ship it to Kona. Chris the owner responded to my initial inquiry immediately and within an hour he provided me with a quote and day he could do it. Every communication throughout this transaction with Chris was prompt and professional. He picked up the chest from my Aunt in Honolulu & even she commented to me how professional and friendly he and his helper were. Chris kept me updated every step of the way and I had the chest (a family heirloom no less) delivered safely to me on the Big Island. It's so nice to do business with a true professional who clearly knows how to take care of his customers!
Chris was awesome! My wife and I came to Honolulu from the Big Island because she needed surgery. The surgery went well and on our follow up appointment, we forgot to return a medical device that my wife had to use to help her circulation after surgery. The doctor is in Aiea and we were staying at the end of Waikiki. We called WikiWiki Express Delievery and Chris was so nice and professional. He said "no worries, we get um" and I felt at ease being a local boy you just know when you meet a good bradda. He grabbed the device from our hotel and delivered as promised. This device was at least $3000 but I felt at ease with WikiWiki Express Delievery
Chris with WikiWiki is amazing! I needed last minute Courier services twice in the same week and Chris was able to accommodate specific delivery window requests in a professional and efficient manner. One of my scheduled services was even a last-minute same-day service that Chris took care of with no problems and at a reasonable price! Thank you Chris and WikiWiki for all of your help! I will for sure be calling again for any and all of my courier needs in Honolulu!
Chris is amazing! His kindness, communication, and helpfulness were so incredibly appreciated. As a parent of a UHM freshman who is on campus for a couple of weeks, Chris saved the day with our Walmart mini fridge and grocery delivery! Highly recommend his company! Thank you for everything!
I thought I could move all my belongings myself but quickly realized I bit off more than I could chew. I searched Yelped & came across WikiWiki & I'm glad I did. The 2 men, wish I got their names, were quick & professional, cut the time in half & did all the hard work for me. Thank you Chris & your team.
***Flexible and Hard Working*** Chris and his staff were very well-mannered, and professional movers. Despite my constant rescheduling and mishaps during the move( elevator breaking down) they continued to work hard and exceed all of my expectations. Response time and follow up --- A+ Professionalism --- A+ Delivery --- A+
I messaged Chris about getting a quote to get a mattress delivered from Costco, and he messaged me back right away with a reasonable flat rate quote. He was able to squeeze me into his scheduling the next day since I had a guest staying with us whose back was hurting due to an old mattress/bed they were sleeping on in our guest room. The delivery team met me at Costco and loaded the mattress after I purchased it, delivered it to our guest room, and hauled away the old mattress. I would defiantly recommend, Chris and Sam, the delivery guy, to anyone who needs a good delivery team at a fair price.
Chris and his team were Amazing. From Communication to Service and Completion I was extremely satisfied. Great customer Service. Excellent Work with such short notice it went extremely smooth and Very professional. Highly recommend and would use again!
I had a fantastic experience with this moving company. I have used other moving companies in the past, but this one is the best! Great price with no hidden fees. Movers worked very quickly and efficiently and were on time. I highly recommend them!
Reliable. Friendly. Professional. Fast and efficient.
I spoke to Chris to arrange the move and he was so friendly, courteous and very professional. He was extremely accommodating and worked with me so I could get it done within a day! John& Bernie who came to the house were amazing and strong. They took time to figure out the best way to move my stuff and were very careful with my furniture! I only do reviews when I'm truly pleased and I cannot recommend a better company and nicer people than Chris, John and Bernie!
EXTREMELY happy with the service I received from scheduling to the time they left our new property! The entire crew were so professional and hard working! Very respectful and friendly! They arrived on time, packed everything quickly and safely. All my items arrived perfect and in all the areas I needed them to be in. I am just so happy I found them! I'll definitely recommend them to friends and family! And if I ever move again I'll be for sure using them again!
Great team, I ended up having more things than I thought (3bd/2bth 1300sf home). They adapted and got the job done from start to finish with no problems. A hard working and cohesive team. Will def be using again and highly recommend!
The moving crew arrived on time and was great to work with! They finished on time and there were no hidden fees. From start to finish, they were hard working and had great attitude!
Responsive movers for a quick move. The crew was very professional and we're quick yet careful with my large furniture items. Chris was great and checked up on us to make sure everything was going smoothly.
We needed to relocate our business furniture and other materials and Chris at WikiWiki Express was able to squeeze us into their schedule at the last minute to meet our timeline. His staff was professional and very easy to work with. No worries or concerns on our end as they wrapped the items and packed them securely. The destination location had stairs and the crew had no problem in carrying-up counters and display cases. All within the schedule timeline. Couldnt have asked for more. Huge mahalo to Chris and his team. If you ever need moving services, big or small, these are the professionals right here! They also do courier services, too. Thanks, again, WikiWiki Express Delivery!
So I had a delivery of 9 boxes coming into the airport and between my injured knee and small car, I wasn't sure what to do. The thought of three runs to the airport and hauling boxes up my condo unit stairs was pretty stressful. I called Chris at WikiWiki Express and he was phenomenal. He worked with the crazy airline cargo process, which couldn't pinpoint the arrival times. He was flexible, communicative, and super friendly. He had his guy bring the boxes and make sure they got into our condo unit. WikiWiki Express pricing was fair and I really knew that my things were taken care of by the staff. They even took pictures of damage that one box had when they picked it up and verified the damage with the airline just in case something inside was broken or missing. Fortunately everything arrived in one piece! WikiWiki Express was great. Thanks to Chris and his team!
Great guys! Always on time and ask for Tony the Tiger. He's a giant with a heart of gold. His crew will move anything without a problem. 5 stars all the way.
BEST experience! From the first response to my inquiry to the final delivery of the furniture, I was very impressed by their service; EXCELLENT! I have never used professional movers since in the past my husband was always the mover (along with his friends). However, this time the furniture, etc. I purchased was a surprise gift for his birthday and Fathers Day. I decided to go on Yelp and see what moving company met my needs and also, had good to excellent reviews. I was not disappointed; they arrived on time at the pick-up location and the owner of the furniture called to tell me that she was also very impressed by their professionalism, she even knew one of the team members, and said that they were very good and careful! They arrived at my house and they worked quickly; very friendly team. Took the necessary safety measures.The furniture came wrapped (more than I had expected) and they had adequate equipment and supplies to safely move the items into our house.They were very careful and worked together to ensure the items were placed nicely in our home. I highly recommend WikiWiki Express Delivery for your moving needs. The owner, Chris is very friendly and professional, and quickly responded to my inquiries, very helpful. Im a very happy customer; I will definitely count on WikiWiki for future moves! Very reasonable quote, too. Im sure all these moving companies are comparable in their costs. My husband was also very impressed, and hes a hard person to please when it comes to services.
Chris, Anthony, and Joe helped me with my move last week and it couldn't have gone better! I needed help with my heavier furniture that I couldn't move myself. Chris was great with his prompt responses and answering all of my questions. Tony and Joe got there right on time and were super efficient and professional! Great service at an affordable price- will definitely call them the next time I move!
Needed an important package delivered from Hawaii Kai to Ewa beach. They delivered same day and was very reasonably priced. Extremely friendly and professional. We will continue to use them for all of our courier needs.
I had some very important packages that needed delivered by a certain time and was referred to Wiki Wiki Courier Services. At first I was skeptical as I never dealt with them in the but I took this opportunity to choose them because the other courier services had failed to deliver my packages on time in the past. I am now happy to say that not only did they deliver my packages on time they even confirmed and each delivery as they were being made. That took a lot of pressure off me as I'm in the main land here in Oakland CA. I now have a partner that I can trust will all my deliveries in Hawaii and will be using Wiki Wiki exclusively for all my shipments to Honolulu.
Chris is awesome, took care of picking up our package and delivering it!!! Highly recommend, fast, honest, a great experience. Thank you Chris, Best, Barbara
The guys to call to get you out of a bind and rest easy that the request will get done! Excellent communication, super friendly and outstanding customer service. If we ever have a need in the area again we will most definitely call on Chris, Scott and the gang!
Wiki wiki Express had an hour to deliver the goods and they came through.. Great customer service and very friendly staff. Highly recommended.
Used them today needed a package I couldn't pick up because of my busy schedule today give them a ring I have my product in 1 hour thank you you guys are the best
Chris took care of me. Need a anniversary gift delivered to Kahuku from downtown. He's fast, reliable goes the extra mile for his customers satisfaction. I highly recommend him for his dependable service.
Highly recommend using this delivery service. Chris, the owner, was fantastic. He respected my item and had it delivered to my destination in California on time and in great condition, and for a reasonable price. I will only use Chris for my future deliveries.
Chris at Wiki Wiki Express was incredible! I had a problem with UPS not delivering a package that had perishable items to a business. As soon as I sent Chris the details of pick up/drop off, he got right on it and took of care of everything! Great customer service, fast and efficient. Really thankful that I found Wiki Wiki and will not use any other courier service in Honolulu again!
I would like to thank Chris for his excellent service in delivering gifts to my husband. Wanted to surprise my husband with a few of his favorites Hawaiian goodies. Chris, I truly appreciate you calling me throughout the day keeping me in the loop of your shopping! Will highly recommend to friends and family to contact you and utilize your wonderful services!! Aloha and Mahalo!! Look forward to working with you again!! Aloha and Mahalo. CW
My son is on deployment to the Phillipines, stationed in Hawaii, and needed to get a Valentines gift to his girlfriend in Hawaii and asked me to help. I called a few places and most couldn't help with my request but Christopher was able to help! This was not an easy task as the nearest places to Christopher were sold out of everything and closest Edible Arrangements was over 20 minutes away from his location. I placed an online order for pick-up but the place was packed so Christopher had to wait a bit. After he finally got the item, he delivered it to my sons gf on time and saved the day! This was a huge ask but Christopher did it with a great attitude and did not make me feel like a bother to him at all. As I live in California all this was done through the phone. I HIGHLY recommend using Wiki Wiki Express! Thank you, Chris! I really appreciate what he did for us.
Very helpful and stays on top of everything! Thank you for all your help, life-saver, indeed!
Excellent service!! Chris was very accommodating with our needs and delivered on time!! Mahalo Chris!!
I needed a courier to get a package to HNL airport for shipment to Moloka'i and I contacted several by phone or their online form. Wikiwiki Express was the only one who responded. I am very happy with their service. They were at the pickup on-time, unfortunately the package wasn't ready for them to take but they patiently waited. I received the package the next day as planned. Perfect!! I then got a followup call from Wikiwiki Express. Bottom line - great service, professional, friendly. I definitely will use them again.
OUTSTANDING!!! Mahalo for excellent customer service and a smooth move. Very professional while still being very personable.
Super fast and reliable guys! On time and quick and efficient highly recommended with these movers
Friendly and dependable. Priced right.
Chris at wikiwikiexpress.com is AWESOME! His company is willing to reach out and help our kupuna who are homebound and needing something delivered. I called and they were ready to go help. I highly recommend wikiwikiexpress for all of your courier, moving, and cleaning services. They were professional, accurate and really fast! And they waive the delivery fee for our kupuna in need. I will definitely call wikiwikiexpress any time I need delivery, moving or cleaning needs!
Prompt, respectful, and efficient.
I was so stressed and nervous about finding a mover for my complex move. I had to move from 2 offices and one rental into my new property. So with multiple stops, plenty of stairs, odd shaped furniture and boxes, all with an extremely tight schedule, I was panicking that I wouldn't find a good mover in time to take on my challenging job. The team at Wikiwiki got back to me SUPER fast, gave a great quote, and worked with my schedule/challenging requirements without hesitation. They gave me all the pricing that I needed to expect so I felt comfortable that I wasn't going to get hosed after. The two man crew was absolutely incredible. The friendliest guys on the planet and ultra professional. They worked SO HARD and were fast and efficient and never once made me feel uncomfortable or guilty for asking them to do certain tasks no matter how difficult. I cannot stress enough how great they were. All around 5 stars for sure!
Chris and his crew were courteous, prompt and professional. I would use them again, great service!
I have 47 stairs so Island Movers refused to deliver my new refrigerator and to haul away my old refrigerator. I hired wikiwiki and Chris brought a four man crew and did the job. Before they left, they carefully cleaned my garage of the packing materials for the new fridge. I gave the crew big tips out of gratitude for a job well done. They were so cheerful and cooperative with each other.
Moving is stressful and closing dates aren't always accurate. Booked a day before my move in date with Lacey and the team arrived right on time the next day. There were a few things I was a little concerned about, but Chris made things right. I suggest moving in the morning as the afternoon heat is rough on the workers but it was needed for my move, unfortunately. Try not to overpack as I did with some boxes. Things move smoother with lighter packages.
My girlfriend and her son's "landlord" was being a total b#$ch. Telling them they needed to be out by the 7/15th even though they paid rent till 8/15! They told her they needed a couple of days. She flips out, and when they were at work she changed the locks. So for two days my girlfriend had to do without her meds and no work uniform. Finally after my girlfriend called her landlord's family she open the house and told them you have one day, it was 11:30am, both my girlfriend and her son were at work. Long story short, time was short. We started packing and moving things out. My girlfriend is 60, I'm 63 with a bad back and knee. Her son just started a new job and couldn't leave, my girlfriend explained to her client her situation and left. We realized we needed help it was 3pm now. I called 5 moving companies. Chris fromWiki Wiki was the first to call back and call back in 5mins. Only 1 other co. called back 30 mins later. Stanley and Jeremiah saved the day. They were very professional, friendly, very careful and respectful of furniture and items moved. I highly recommend this company and these to workers
Delivering The World At Your Finger Tips!
When You Need It Fast Wikiwiki It!
Wikiwikiexpress is an On-Demand Delivery Network. Available 24/7. Having your items delivered has never been easier.
ARE YOU INTERESTED IN BECOMING A DRIVER?
Check out what is required to get verified and your vehicle certified in order to be part of the WIKIWIKIEXPRESS network of drivers picking up and delivering items and being your own boss.